Wikipedia )
Capoeira is the art form that builds community, confidence, and physical conditioning, all while harboring diversity by learning the Brazilian culture.
Learn percussion.
Learn a language.
Learn to sing.
Learn to dance.
Learn to move your body in a different ways.
Learn with encouragement and optimism.
Capoeira Maranhão was established in 2009  in New Brunswick, New Jersey by Contra Mestre Maranhão.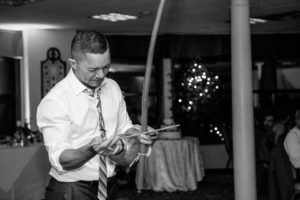 Contra Mestre Maranhao (Jose Carlos Silva)
Born in Goiânia, Brazil, Contra Mestre Maranhão began training capoeira in the United States with Mestre Cigano of Grupo Liberdade de Capoeira. A few years after Mestre Cigano started teaching at the Rutgers Capoeira Club at Rutgers University in 1993, he asked Contra Mestre Maranhão to assist him in teaching the growing group. Since that time, Contra Mestre Maranhão has spent over a decade passing his knowledge and passion down to hundreds of students. Contra Mestre Maranhão draws inspiration from many incredible capoeiristas all over New Jersey, the Tri-State Area, the United States and abroad. He is especially grateful for the guidance provided to him by Mestre Lobão of Capoeira Besouro Mangangá.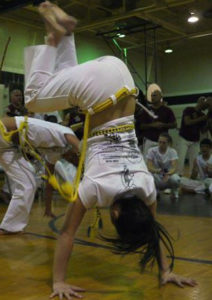 Instructora Gatinha (Amanda Chan)
Instrutora Gatinha has been training with Contra Mestre Maranhão for 11 years.  She assists with classes at Rutgers University and at a New Brunswick community gym, the Hub Teen Center, as well as summer camp programs, performances and birthday parties. Outside of capoeira classes, she is a preschool teaching assistant, and has a passion for fitness and baking.
Instructor Corvo (James E. Green III)
Instructor Corvo started capoeira in the Fall of 2006. After graduating Rutgers University with a BA in Theatre Arts, he joined the Hertz Corporation. When the company made the move to South West Florida (SWFL) he came with. In this new area, he continued to focus campus recruiting at Hertz, on capoeira, his writing, and working on things like the comic book, Potential.  Instructor Corvo teaches the classes in Estero, FL.